Teaching and Counseling for Today's World Pre-K­12 and Beyond Second Edition(Revised edition © 2021)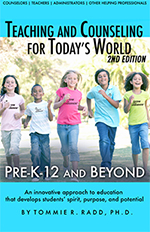 This Little Book Provides an Innovative Approach to Develop Students' Spirit, Purpose, and Potential! See a video overview of this book here!
By Dr. Tommie R. Radd, Developer of The Grow With Guidance® System
Essential Reading For All Educators and People Who Want An Effective Educational System
Teaching and Counseling for Today's World Pre-K­12 and Beyond Second Edition (Revised edition © 2021)
This easy to read, practical book is a guide for teachers, counselors, administrators, and other helping professionals. The focus of the book is to provide an innovative approach to education that develops students' spirit, purpose, and potential.
Dr. Radd shows educators how to:
create inviting schools that foster maximum student success
turn classrooms into life labs in which students learn and apply critical life skills
address urgent issues such as school achievement and school violence with strategies that work
put her plan to work in preparing students to meet the challenges of the 21st century
This is accomplished by discussing:
26 concerns facing students and education today, including academic achievement, bullying, multicultural understanding, school improvement, school-to-career, safe schools, drug-free schools, character education, emotional intelligence, and challenges for the global community such as terrorism and other trauma
essential elements to consider to address these concerns
models based on the essential elements
visual formulas and discussion of solutions for the 26 concerns based on the models
Learn what students need to know in order to be successful! The book contains a wealth of information, examples, charts, tables, and an expanded glossary.
Provides effective teaching approaches based on educational best practices!
Meets and exceeds the national school counseling standards and counseling model!